Outfit details:
Leather Jacket - South Korean Boutique
Plaid Dress - ASOS
Bag - Prozena Schouler
I know I may be late on the bandwagon for colored ombre locks, but Chloe Ting's
pretty colored locks
stirred something in my heart. I decided to utilize my bleached ends and play with a bit of semi-permanent hair color. At first, I thought I'd go for something purple but my hair isn't a light enough blonde for it show up unless I went for a deep purple. I hummed and hawwed over pinks but then I realized the answer was in front of me all along... Michiru Kaiou a.k.a
Sailor Neptune
, Outer Sailor Senshi of the Deep.
Why would this fictional & flawless anime character influence me so? Well, when I first started making websites at the tender age of 11, my first big project was a "shrine" website dedicated to
Sailor Neptune
, called
Violin Tide
. Maybe it was her mature demeanor, her violin prowess, her affinity for the sea, her pink lipgloss or her wavy, teal locks, but I wanted to
BE
her at the height of my Sailor Moon-loving days. Despite my adoration of her, turns out that I am really nothing like her. I'm really more of a Sailor Venus-type to be honest. (Let me know your favorite senshi in the comments below, plz!) Ahhh, but I couldn't deny my childhood dreams any longer when I saw a bottle of Bleach London "
Washed-Up Mermaid
" in Boots -- in lieu of getting a hot, blonde girlfriend or violin lessons, it was follicles for the win.
"Bow down to my fierceness."
I applied the blue-green dye all over my tresses, because I have highlights throughout my mane (up at the temple and obviously at the ends). The dye took to most of my hair but there were some sections that it didn't, but I kind of liked this effect. The dye showed itself best at the very tips which were the lightest blonde. I left the dye in for about 2 hours, instead of the prescribed 15 minutes. It turned out to be more of a pastel, seafoam green but I was pleased with the results.
Here is my hair hot off the presses. To check out my hair before please take a look at my
Power Lip
post. I really liked how the color turned out, I've found that it looks best with my hair curled a la Sailor Neptune. Merely straightened, it looks a bit drab. And curly (check out what my pre-dyed curls look like
here
!).... it looks downright witchy, unfortunately. Sigh! Being that I do like to wear my hair in its natural state to preserve the health of my strands, this means that my teal hair will have to be ultimately temporary. But while it's here and fades into an even more pastel shade, let's say, "Neptune Planet Power Make-up!" and embrace our inner Sailor soldiers.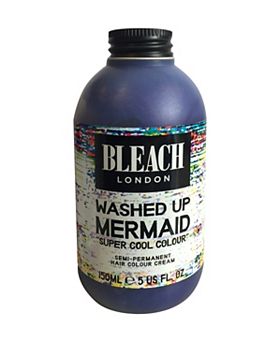 Get our own bottle of Bleach London 'Washed Up Mermaid",
here
!
So readers, if you were going to dye your hair an unconventional shade, what would it be? Tell us in the comments!