Mysterious and sleek, PVC naturally lends itself to the night. Less gregarious than glitter, and more sultry than sparkles, vinyl is a fabulous fabric to wear on fancy night-out where you are trying to impress. However, it also
means that wearing PVC in the evening can actually be the trickiest of all, due to its unfortunate association with ladies of the night. To avoid being picked up for solicitation, we advise pairing the PVC with something decidedly unsexy, like a cozy cardi or socks with sandals.
Regardless, be prepared from comments from strangers (mostly from fashion-hungry gals and men who run tumblrs dedicated to fetish wear, but all positive, really).
To go with the somewhat gothic fabric, we had to add in
vampy lips
and black apparel. Miriam's hoop earrings (in adherence to her
2014 Fashion Resolution
) were a happy experiment that we found looked fetching with her ensemble. We might actually be hoop converts! And Siobhan added her fluffy coatigan to add a little textural interest... plus it was balls to the walls cold. Miriam's Northern (Stark?) blood makes her impenetrable to the frigid air.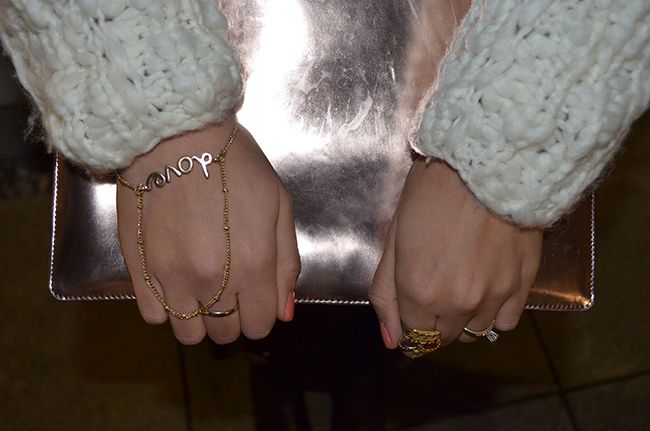 Miriam's Outfit
PVC Dindrl - H&M
Black Sleeveless Studded Blouse - Monki
Hoop Earrings - Accessorise
Cream Locket Clutch - South Korea
Vampy Lipstick -
MAC Hang Up
Silver Sparkle Nails - Space Dust from Rimmel in 'Shooting Star'
Siobhan's Outfit
Cream Coatigan - H&M (similar
here
)